I started freelance writing before Upwork existed. Back in the day, I took a few assignments on its predecessor, Elance. I found the experience a real race to the bottom, with the lowest bids winning for the most unrealistic clients. 25 articles a day for $3 due tomorrow? As an experienced freelancer, I literally cringe when I think about accepting these meager rates and how I allowed these types of clients to have priority on my day.
Elance merged with oDesk in 2013. It rebranded in 2015 as Upwork. In 2013, a client I found outside of any freelancing platform wanted to work with me but only if I worked with them on what was then Elance. I agreed. After writing an article or two, I never heard from them again. The fees taken out of the assignment were quite high. Then the contract ended abruptly. I reached out, as I often do, to see what happened. They said my style of writing wasn't right for them but they wished me the best.
I didn't really look at Upwork again after that until 2020.
Freelance Writing in a Pandemic
2020 was a weird and devastating year for my freelance writing business. Clients I thought would never fall filed bankruptcy. Some chose to work with robots instead of human writers. When I got the opportunity in early 2021 to write for an awesome company, once again they said that I had to use Upwork.
This company is one of the best companies I ever freelanced for. They pay well, on time, and are extremely fair. I hope to work with them for many years to come.
Since I had to use Upwork anyway, I figured I'd spend a year just using Upwork without letting my past experiences color my experience. I started with a more negative rating than I deserved because of that one client in 2013, so I had a significant uphill climb to do. I had to learn how to use Upwork effectively to increase my Job Success Score (JSS) and then to become Top Rated Plus.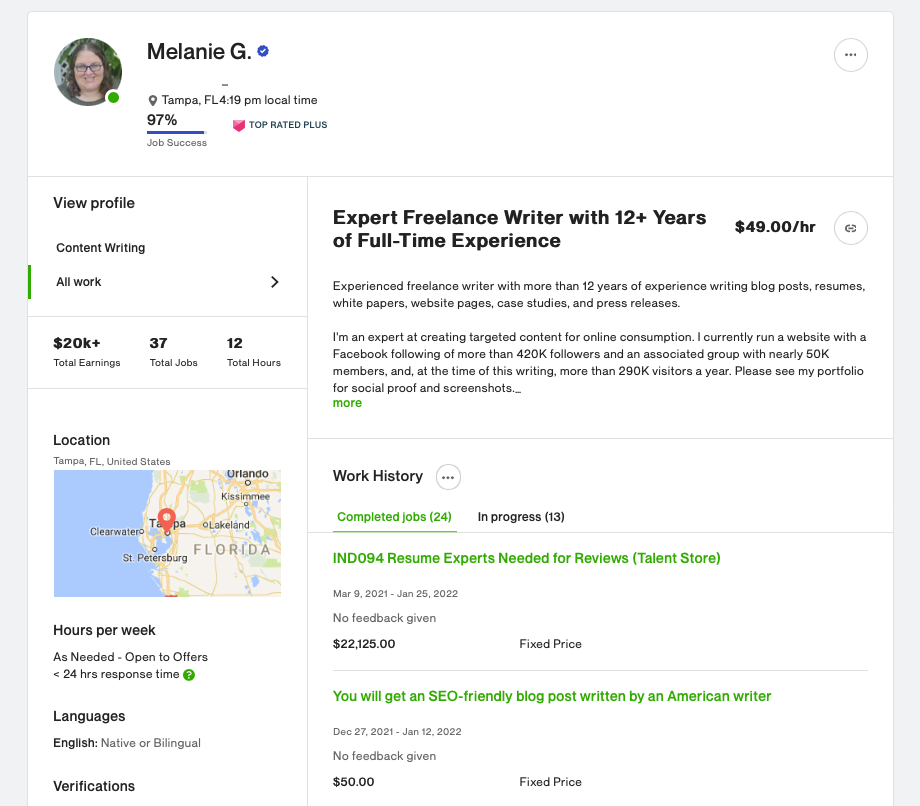 Here are some of the things I learned:
The Right Client
The most difficult learning curve involved with working on Upwork was accepting that I needed to be proactive in finding the right clients. This meant looking at the client's ratings and past feedback, hire rate, and past compensation rates to see if they were a good fit. The vast majority of clients on Upwork are not the right fit for me. This is okay.
A bad client hurts your JSS and your standing. They might leave public comments that are positive but negative feedback that hurts your score. If they have a ton of short-term hires, especially for "long-term" assignments, I assume they're a bad client and I don't apply. This ensures that they don't have access to hurt my ratings.
Another thing to note is that if they have unrealistic expectations, they're probably a bad client on Upwork. Write a quality business plan for $10? Write 25 articles a day? Steer away from these.
The right clients will pay you what you're worth, or at least a rate you're comfortable accepting. Sometimes you can't find out that a client is a bad fit unless you work for them. Then you have to try to be better next time.
A client that scammed me and many other freelance writers called E-Writer Solutions in real life outside of any platform is on Upwork. While the feedback on E-Writer Solutions' Upwork account is progressively getting worse because of how they treat people and don't pay them, many freelancers give a 5 out of 5 star rating to all clients. You really have to read the feedback to get a better assessment I had to save one of their job postings to be able to know which jobs they posted to avoid them. Sending them a proposal would be a terrible mistake!
The right client has:
history of working on Upwork
positive written feedback with specifics
fair rates
no trends of short-term freelance relationships
clear instructions
a full job description
Diversifying Your Portfolio
One of the core tenants of freelance writing that I believe is to keep your portfolio diverse, so if something happens with one client, you're always protected. Because of this, no matter how awesome Upwork is (more on that later), I will still always work for agency and enterprise-level clients. Marketing companies, copywriting agencies, SEO companies, and website development businesses love working with me and I absolutely love working for them.
However, the pandemic reminded me that it's always smart to diversify your portfolio. What I really like about Upwork is that it shifts the onus of finding clients to me in a way. All of my efforts aren't going to the agency that I contract with. Feedback is left on my own Upwork profile for others to see. It's my feedback, which is new for someone who is used to being the writing power behind great marketing agencies. I can be my own person, too. 🙂
Upwork Can Be a Really Great Opportunity
Contrary to what I thought in my earlier freelance career, I think Upwork can be a really amazing opportunity for freelance writers. Yes, the fees are much higher than what you'd have to pay just invoicing clients through PayPal. However, Upwork provides a lot for those fees, such as payment protection and actually connecting you with clients.
In my year-long experiment, I've already recommended Upwork to many new freelance writers. You just have to be very selective about the clients you submit proposals for and don't get caught up in the race to the bottom with rates. There are some truly amazing and life-changing clients on Upwork right now.